Kenan Foundation Asia Marks 25-Year Milestone, Empowering Vulnerable Populations for a Better Future
Because skills and knowledge are the power of the 21st Century, Kenan Foundation Asia reveals on its 25th anniversary that it has successfully raised more than Bt3 billion in funding for skill and knowledge enhancement that has improved the quality of life of over three million people in Thailand and Southeast Asia. Also, Kenan Foundation Asia vows to continue working with partners to further the goals of transforming education, driving the economy and social inclusion.
Mr. Piyabutr Cholvijarn, President and Vice Chairman of Kenan Foundation Asia, says, "Our foundation is a regional non-profit organization. We have contributed to Thailand's social development for 25 years now with a focus on giving knowledge and skills to vulnerable people through more than 1,000 projects in Thailand, Vietnam, and other Southeast Asian nations".
Mr. Richard Bernhard, Executive Director of Kenan Foundation Asia, says, "During the past 25 years, we have received nearly Bt3.35 billion in funding from the government, multilateral, and private sectors. Our funding, for example, comes from the Office of SMEs Promotion, Tourism Authority of Thailand, Bank for Agriculture and Agricultural Cooperatives, U.S. Agency for International Development (USAID), the US State Department, the Japan-ASEAN Integration Fund (JAIF), the European Union, UNICEF, UNWomen, Chevron, IBM, Facebook, IVL, Boeing, Caterpillar, Citi Foundation, Sumitomo and Pfizer Foundation".
Kenan has has supported Thailand through several major crisis such as the 1997 financial crisis, Asian tsunami disaster, unrest in the Deep South, and the spread of bird flu. The Foundation has also responded to the country's changing needs, contributing to efforts to control malaria and prepare youth for Industry 4.0. As the COVID-19 pandemic impacted people worldwide, many of the foundation's beneficiaries were severely affected over the past year. Therefore, the foundation has adjusted its activity approach, conducting blended service delivery – which combine offline elements and online elements– over digital platforms. Seminars and workshops implemented through projects during the COVID-19 pandemic have benefited more than 550,000 people.
"Kenan Foundation Asia is the only certified Boost with Facebook trainer in Thailand. We have conducted this training for thousands of SME owners across Thailand," Mr. Bernhard says.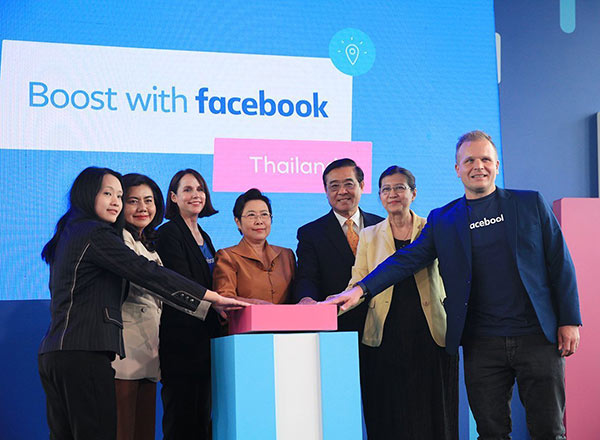 Kenan has many years of experience in delivering projects that result in impactful changes in the educational sector. Among them are the Chevron Enjoy Science and Boeing TEL initiatives. The Foundation, moreover, has driven the economy and promoted social equality with a variety of projects. Through collaboration with the Office of SMEs Promotion, projects such as Born Global, Business Development Projects for SMEs, and OSMEP Woman Entrepreneurs are implemented to bring Thai entrepreneurs to the global market. The Pfizer Healthy Aging Society, meanwhile, promoted older persons' wellbeing. Funded by UN Women, the WeEmpowerAsia project aims to empower women in the business sector. The USAID Chumchon Harapan project also aims to foster stronger ties among communities in Thailand's three southernmost provinces.
"We are grateful to all our sponsors and partners for cooperation that focuses on improving our beneficiaries' quality of life. We shall always uphold our commitment to empowering people with the knowledge, technology, and skills needed for a better future. Continued support from all sides thus is not just inspiring but also fundamental to efforts to create a better society," Mr. Piyabutr concludes.