TRUE GROUP REPORTS IMPROVING PERFORMANCE IN 2Q21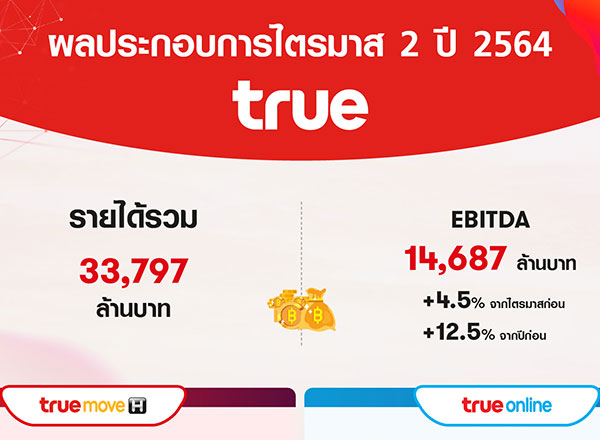 True Group reported total revenue of Baht 33,797 million and service revenue of Baht 26,648 million in the second quarter of 2021, driven by healthy subscriber growth of mobile, broadband, and digital businesses, despite revenue decline at TrueVisions along with continued impact from the COVID-19 outbreak. TrueMove H once again outshined other players with service revenue growing 1.2% QoQ while the overall industry saw flat to decline revenue trend (-0.3% QoQ, -1.8% YoY) excluding TrueMove H. Cost and productivity initiatives continued to gain traction and lowered operating expenses, excluding depreciation and amortization, by 11% QoQ and 8% YoY. These drove EBITDA up 4.5% QoQ, 12.5% YoY to Baht 14,687 million and operating profit before interest and tax (EBIT) up 10.1% QoQ, 35.4%YoY to Baht 3,620 million in 2Q21.
True Group's competitive advantages on quality digital and Telecommunication infrastructures like 5G, NB-IoT, Cloud and FTTx, comprehensive range of digital content and media with TrueID under True Digital Group being super app for all users, proven with its accelerating user base and robust revenue growth of 77% YoY and 15% QoQ, joining forces with TrueVisions NOW premium streaming services, as well as materialized synergy with strategic and business partners with tremendous nationwide footprint well position True Group to amplify growth in this new era of progressive digital adoption.
Mr. Manat Manavutiveth, President (Co), True Corporation Plc. said, "Despite this challenging time with the new wave of COVID-19, our digitalization and customer-oriented approaches have been key growth drivers for us. We carried on positive momentum with quality subscriber growth for all mobile, broadband and digital arms in the second quarter. In the meantime, we stand firm to help Thais pass this difficult time with ongoing quality enhancement of all our telecommunication and digital infrastructures especially this working and learning from home period while also extending support to various hospitals and field hospitals across the country. We also continue to provide value-driven products to better respond to the changing lifestyles of our customers.
These include innovative offerings like the cloud-based integrated solutions platform "True Virtual World", Teleclinic and True Health platforms, as well as well-rounded contents of TrueVisions and TrueID. We will continue to place importance on digital transformation and end-to-end experiences for customers in all segments leveraging True Group's complete and expansive ecosystem, digital content and media, technological advancements, AI and analytics capability, strengthened by True Digital and EGG Digital – an established digital marketing solutions provider, to provide personalized offerings and privileges that match the needs of consumers and businesses as well as for proactive maintenance and customer's engagement.
At the same time, we are focusing on digital services and sales in response to rising demands for online transactions as well as working more cohesively with strategic and business partners to efficiently reach, understand and adapt well to different needs of customers in each area. All these should accelerate our growth potential with a strong financial footing and we hope that our leading digital technology will be one of the key engines for rapid recovery of Thailand's economy."
Ms. Yupa Leewongcharoen, Group Chief Financial Officer, True Corporation Plc. said, "Our continued efforts on optimizing costs while maintaining revenues amid the new wave and rapid widespread of COVID-19 have delivered positive results. EBITDA and Operating profit continued to grow in double-digit rates compared to prior year while foreign exchange loss pressured bottomline performance in the second quarter. We are working more aggressively to revive to the new cost structure with financial discipline to drive higher productivity and return on investments, equipping ourselves with engines that can adapt well to any possible challenges in the future and believe we are on the right path for growing profitability in a sustainable manner."
TrueMove H added 488,700 net subscribers in the second quarter and drove its service revenue up 1.2% QoQ to Baht 20,171 million while the overall industry experienced flat to decline revenue trend. Value-driven and affordable price plans together with the Group's content and privileges were launched to mitigate impact from the COVID-19 pandemic, catalyzed by rapid widespread of the new wave, on consumers' spending particularly in the price-sensitive prepaid segment. Meanwhile, TrueMove H's high-quality postpaid base maintained solid upward trend gaining 352,300 net adds driven by 43% QoQ growth of its 5G users to 1 million at the end of Q2.
This solid growth was a result of TrueMove H's continued efforts to enhance customers' experiences through its superior 5G network with the most coverage across the country. TrueMove H ended the second quarter with total subscriber base expanding to 31.7 million. At the same time, True Group aims to capture growth in the rise of gaming industry and collaborated with Bitfrost Cloud, a world-class cloud technology provider from China, in launching "True 5G Cloud Gaming by Netboom" transforming hi-spectrum PC or console gaming into smartphone for playing everywhere at any time.
The Group's 5G ecosystem and partnership with enterprise sector have also expanded further aiming to elevate 5G potentials and usage in the country. Recent collaborations include smart factory solutions via 5G private network technology with Mitsubishi Electric and Lertvilai as well as MOU with KT Corporation, the world's first 5G network provider, South Korea in co-developing new format of digital innovations such as Enterprise LTE/5G and Giga Eyes to serve B2B and B2G customers.
TrueOnline added 105k net subscribers and expanded its broadband subscriber base to 4.4 million growing its broadband revenue by 10% YoY and 2% QoQ to Baht 7,317 million in 2Q21. This solid growth was driven by its ongoing efforts on utilizing advanced technologies as well as in-depth analytics for proactive maintenance and value-driven propositions. These have resonated in customers' mind and drove its recognition in the international arena, proven with the 4th consecutive year of winning an honorable award as the brand of the year in the Internet Broadband category, the only Thai brand this year, from the World Branding Awards, England.
In order to continue to deliver the best experience to customers, TrueOnline has provided innovative devices particularly the recent launch of True Gigatex Fiber PRO with WiFi6 router and new WiFi Chipset delivering greater data transfer speed, wider coverage, no dead zone and interference as well as the best signal strength via Band Steering technology. Its competitive bundling with TrueID TV and True Virtual World with VLEARN, VWORK and VILIVE respond well to consumers' rising needs of home internet for remote working and learning as well as entertainment.
TrueVisions' service revenue was Baht 2,381 million in 2Q21 with key revenue stream from subscription contributing 61.5% of its service revenue, a slight increase from 60.8% in the previous quarter. The business has been affected by the COVID-19 outbreak along with its clients in the hotel sector, consumers' being more prudent on spending and lower arrangement of entertainment events. TrueVisions aims to capture growth potential in the OTT market and better monetize its comprehensive range of international and local contents, strengthened by its position as the King of Sports, through "TrueVisions NOW" content streaming services. This move is expected to generate additional revenue stream and to expand its total customer base beyond 3.7 million at the end of Q2 while at the same time enhancing stickiness of its customers by allowing them to seamlessly watch content anywhere and anytime via True Group's multiple platforms.
True Digital Group continued to expand ecosystem and maintained solid growth momentum. TrueID, its digital media platform, grew revenue by 77% YoY and 15% QoQ in the second quarter of 2021. The platform accelerated its monthly active users to more than 25 million users and reached the new high on average monthly video views of 265 million per month. With the focus on strengthening contents in TrueID platforms, its entertainment content sales increased 17% YoY while sport content, including exclusive English Premier League content, were 3.3 times higher than Q2 of last year.
TrueID also expanded its entertainment product portfolio with an official launch of TrueID+, a paid online streaming subscription service of on-demand exclusive entertainment content on its omnichannel platforms including TrueID application, website, and TV box. At the same time, TrueID TV boxes achieved higher scale with 2.5 million boxes shipped. In the enterprise segment, True Digital Solutions' revenue increased strongly by 29% QoQ and 15% YoY along with expanding IoT endpoint and devices connectivity.
Additionally, True Digital Solutions continues to innovate, develop and launch new innovative services and solutions for enterprises. True Drone was officially launched to improve efficiency and lower costs of crop spraying for farmers. True Smart Energy Management system, enabling properties to manage energy consumption and reduce spending, was proven to reduce energy costs up to 10% per month.
Remark:
Operating expenses exclude depreciation and amortization.