Statement of condolences from foodpanda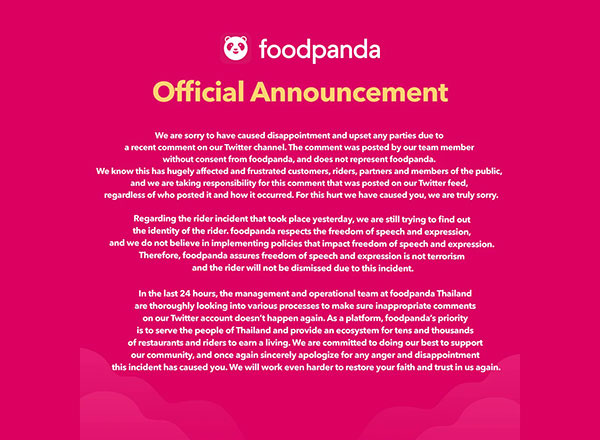 We are sorry to have caused disappointment and upset any parties due to a recent comment on our Twitter channel. The comment was posted by our team member without consent from foodpanda and does not represent foodpanda. We know this has hugely affected and frustrated customers, riders, partners and members of the public, and we need to take responsibility for this comment that was posted on our Twitter feed, regardless of who posted it and how it occurred. For this hurt we have caused you, we are truly sorry.
Regarding the rider incident that took place yesterday, we are still trying to find out the identity of the rider.  foodpanda respects the freedom of speech and expression, and we do not believe in implementing policies that impact freedom of speech and expression. Therefore, foodpanda assures freedom of speech and expression is not terrorism and the rider will not be dismissed due to this incident.
In the last 24 hours, the management and operational team at foodpanda Thailand are thoroughly looking into various processes to make sure inappropriate comments on our Twitter account doesn't happen again. As a platform, foodpanda's priority is to serve the people of Thailand and provide an ecosystem for tens and thousands of restaurants and riders to earn a living. We are committed to doing our best to support our community, and once again sincerely apologize for any anger and disappointment this incident has caused you. We will work even harder to restore your faith and trust in us again.