Samsung Innovation Campus Launches its Online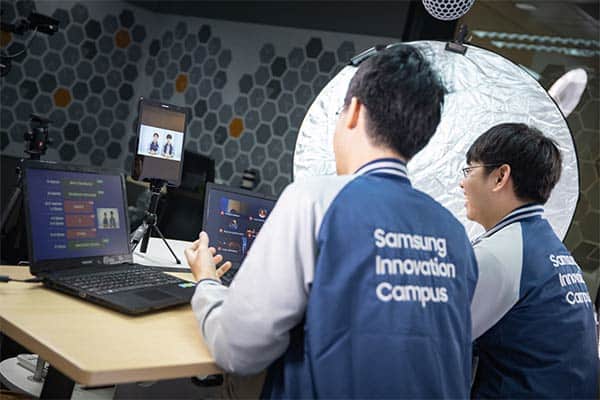 Thai Samsung Electronics Co., Ltd. has just launched its 2nd year of Samsung Innovation Campus (SIC) aiming to equip Thai youth with future workforce skills like coding skills, following its successful pilot program last year. The campus stroked the mass's attention with more than 500 students' applications from all over the country.
This year, SIC in Thailand will be the first among South East Asia countries. Under the current outbreak watch and lockdown, Samsung collaborated with the Thai-Nichi Institute of Technology and transform the program into an online campus with refined curriculums and activities that will best benefit the student throughout the 6-week period.
Wanna Swuddigul, Vice President and Chief Marketing Officer, Thai Samsung Electronics Co., Ltd. said "Samsung aims to equip youth with critical technical and life skills, bridging educational divides to give underserved students enhanced employment opportunities. Our corporate citizenship vision "Together for Tomorrow! Enabling People" encourages everyone to discover their potentials and pushes their capabilities to further their development.
The Samsung Innovation Campus stepped into its 2nd year after the successful pilot program. The pilot campaign's surveys indicated that more than 70% of the students who participated were satisfied with the campus. With this year's current situation, Samsung has refined and elevated the campus into an online learning campus for writing basic coding, understanding, and capability of innovating amidst the ever-changing world of technology.
This year's Samsung Innovation Campus curriculum derived from the pilot program's results and feedback from other campaigns in Thailand to ensure the students' benefits. The campus curriculum was refined, the coding language level was adjusted to make it suitable for beginners and middle schoolers who wish to study coding.
Moreover, digital literacy skills for better changes were added into the curriculum as did the lessons on beginner level Innovator Tools usages. And with the current preventive situation, Samsung decided to collaborate with the Thai-Nichi Institute of Technology and transform the campaign into an online campus for the first time.
Adisak Suasaming, Associate Dean Academic Department, Faculty of Information Technology, Thai-Nichi Institution of Technology said "Our online campus curriculums aim to teach basic coding skills to the students ranging from Scratch to Python which is compulsory in Computer Science class for junior high school students.
The campus accentuates on providing continuous lessons, emphasizing student's capability to utilize their knowledge to produce their products. Moreover, we also include C-Programming which is the starting point of many other coding languages. We hope that the base knowledge we provided will help them understand their school lessons better and able to develop their knowledge further in the future.
The campus was made online by the collaborative efforts between Samsung and the Institute. The Institute was also responsible for teaching the students and prepared the academic teams which will provide one-on-one guidance and answer students' questions until the campus concluded. This is to ensure that the students fully understand the lessons just like their normal class while being able to engage in online activities with others.
"SIC 2020 in Thailand is a basic coding and programming campus which was well-received by Thai youth throughout the country. More than 500 students applied for participation and 55 students from grade 7-8 from 11 provinces were selected. The campus provides 70 hours courses from May to June 2020.
Samsung hopes that this program will help them take a big initial steps into the world of coding and later on they can further use this knowledge for their future career and social benefits." Wanna concluded.